Andy Dodge & Associates
Latest News
Monthly archives
---
Search
---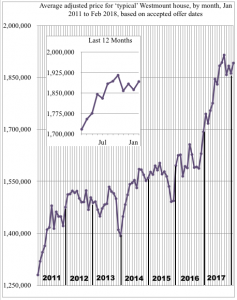 Download the Graph
The Westmount market has now become a strong "seller's market" as homes come flying off the shelf, though volume is still low because of lack of inventory moving into the spring selling season.
An even dozen one- and two-family house sales were posted in February, picking up from a very slow January but still below average in terms of volume. Most important, of the 12 sales, six were accomplished within 10 days of listing, four sold at or above the listing price and all but one sold for more than the municipal valuation. Only two sold for less than $1 million while three topped the $2 million mark; lowest price was $579,000 and the highest was $3,098,000. The average mark-up over valuation was 28.3 percent, with the range from -13.4 percent to a stunning 65 percent, with only three at less than 10 percent.
The fact that half of the sales were accomplished in less than 10 days was offset by three others which took more than 200 days to sell, though it might be said that more of the laggards actually moved, pulling up the average days-on-market to 77. Still, that is way below the average 179 days in four transactions accomplished in January.
Three condominiums sold in February with prices ranging from $367,500 to $1,035,000. Adding another three condo sales in January ups the tally for the first quarter of 2018 to six so far, the same volume as during the first two months of 2017, with another six condo sales in March last year. Only two of the six sales this year cleared the $500,000 mark, though the average was $589,250.
Two houses and a duplex just north of Westmount and three houses in eastern Notre Dame de Grâce made up the February list for adjacent-Westmount. So far this year the average home price in each of four districts is over $1 million (no houses in the Shaughnessy Village sector have yet sold). Volume in adjacent-Westmount for the first two months is exactly the same for one- and two-family homes as it was last year, that is, 14 sales.
In mid-March, we logged 69 houses on the market in Westmount, up nine from mid-February but 11 fewer than at the same time last year. Only one house is being offered for less than $1 million (and that at $995,000), while 45 are asking over $2 million, more than last year. Another 28 are being offered for rent, the highest number in the past two years, five of those asking $10,000 per month or more. So far this year six houses have been rented, compared to only two at the same time last year.
Posted by andy

Posted in: Monthly Analysis

No Comments »

February 2018