Andy Dodge & Associates
Latest News
Monthly archives
---
Search
---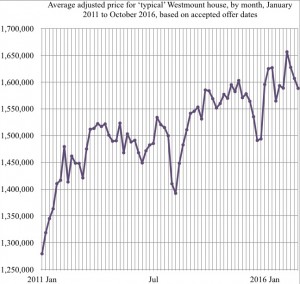 Download the GraphAll the talk about Americans moving to Canada because of the questionable political situation south of the border, might be just rumour for the time being, but suddenly several high-priced sales in Westmount started appearing on the local ledger. While we had reported only two sales over $2 million in September, that month now shows seven such sales, including one in the $5 million range and one in the $8 million range, apparently negotiated in September but now with conditions removed.
Those late-reported September sales — an extra seven following our mid-month report last month — brought the average one- and two-family dwelling price for the month to more than $2.3 million in 18 sales, the highest volume for a September since 2005; that volume helped boost the total sales for the year to 161, the highest year-to-date since 1998.
With such a robust September, things apparently settled back again in October with a more modest (by Westmount standards) average price just under $1.5 million in 14 sales, including one which sold for a 46-percent mark-down from valuation. That sale brought the total outlay below the 2014 municipal value for the properties. The month recorded only two sales below $1 million and two more at $2 million or more.
A condominium at Château Westmount Square, 4175 St. Catherine St., sold in October for $1,950,000, the highest resale price for a condo since June of 2014 (though some at 1250 Greene Ave. and 215 Redfern Ave. have higher prices). That brought the average price of four condo sales in October to $980,000, giving them a boost with an average 18-percent mark-up over valuation.
After a very busy September with 14 sales distributed to the north, east and west of Westmount, only two more one- and two-family sales — both in the area to the north, on Circle Rd. and Roslyn Ave. — were posted in October.
The high volume this year has certainly taken a bite out of available listings, which as of mid-November had dropped to 103 from 128 in mid-July, or 151 at the same time a year ago. The main drop is in the $1 million to $2 million range, though there are fewer in every category except the over-$4 million asking prices. Rentals are up to 33 houses this year in Westmount, compared to 29 for the entire year last year. Of 17 houses now listed for rent in Westmount, four of them are asking more than $10,000 monthly.
Posted by andy

Posted in: Monthly Analysis

No Comments »

October 2016