Andy Dodge & Associates
Latest News
Monthly archives
---
Search
---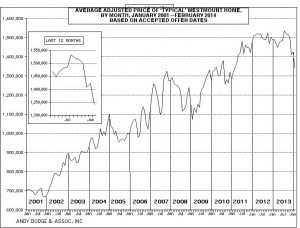 Download the graphMost Westmount home buyers were sitting on their hands at the beginning of what should be the busy spring real estate market, a fact which makes it look like prices are plummeting, with some desperate sellers and no reasonable offers.
In February buyers were anticipating a provincial election, which was finally called last week, so refused to commit themselves to a home price which could drastically change — one way or the other — in a very short time. Only seven sellers actually accepted offers to purchase, less than half the average volume for February and the lowest since February 1996, in the wake of the previous referendum. One sale was over $2 million — and we added another in that price range in late January — but in both cases they sold way under their municipal valuation (22 and 27 percent markdowns, respectively) which indicates the serious lack of demand for Westmount's more prestigious houses.
The two-month volume of only 15 sales in Westmount mimics the gloomy market of early 2009, when the world economy was teetering on the brink of total collapse, but of course this time is much more local in nature, and probably will stay that way through March unless political poll results turn around significantly. Five of the February sales broke the $1 million level, the same number as in January, and in fact two were over $1.5 million. The lowest price last month was $848,000.
Eight condominium sales have been reported so far this year, including one in the brand-new 175 Metcalfe Avenue building, the other seven selling for just under their municipal valuation, so in fact the prices are doing better than the single-family homes. In the first three months last year only six condo sales were posted, so already the market is slightly improved. Only three more sales were negotiated in adjacent-Westmount districts, and in fact in eastern Notre Dame de Grâce the prices are almost five percent higher than municipal valuation, on average.
We have not noticed a rush to reduce asking prices: at last count 146 houses were listed for sale in Westmount, 65 of those (or 45 percent) asking more than $2 million, so we get the idea the sellers, like the buyers, are eager to find out what happens in the upcoming election. In January the average waiting time to sell was a stunning 279 days, coming down to 162 days in February but with two that sold within 10 days.
So we, like the rest of the real estate world in Westmount, will be waiting and watching for the next month or so.
Posted by andy

Posted in: Monthly Analysis

No Comments »

February 2014