Andy Dodge & Associates
Latest News
Monthly archives
---
Search
---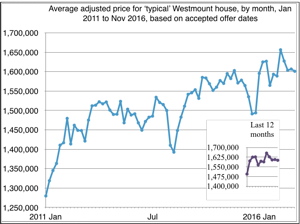 Download the Graph
Agents report 19 one- and two family dwelling sales in November, a record which ties the number of 2007 but hasn't been higher since 2001 (27), when interest rates dropped dramatically in response to the September 11 tragedy. With one month left in 2016, we have already topped the total volume for most years and sales have been above average for each of the last five months.
And these are not just your typical Westmount million-dollar houses. Five sales above $2 million, all way to $5 million, are part of the November list, with only two below $1 million and all but three selling above municipal valuation. The average mark-up was only 8%, which is about the same as the 2016 average; then again, four of the 19 sales cleared the 20% mark.
Condominiums, too, show plenty of buyer interest in November. Seven sales bring the total for the fourth quarter of 2016 to 11, which — with December sales still to be counted — is the busiest quarter of 2016, and in fact busier than any quarter-year since mid-2013.
Even adjacent-Westmount houses drew buyer interest, with 10 sales added to the totals. Markups over valuation are significantly stronger in the Côte des Neiges district just north of Westmount and the Shaughnessy Village area; the eastern section of Notre Dame de Grâce has seen 27 sales so far in 2016 compared with only 16 in all of 2015.
Very few new listings are coming on the market, so the number of available houses is now 86, the lowest level in the past three years. There are still 16 listings over $4 million, but significantly lower numbers in all the other price categories. To date this year some 34 houses have been rented, up from 29 in 2015.
So we move into the holiday season and I wish all my readers a wonderful time and a happy and prosperous 2017.
Posted by andy

Posted in: Monthly Analysis

No Comments »

November 2016