Andy Dodge & Associates
Latest News
Monthly archives
---
Search
---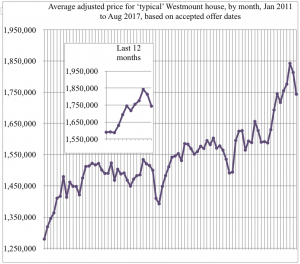 Download the Graph
Efforts by the federal government to "cool off" the red-hot Toronto and Vancouver real estate markets might be having their effect on Westmount's sizzling market, which remained slow in August after a record spring. Only eight sales were announced in the month, only one over $2 million, but then, only one under $1 million and only one selling for less than valuation.
The average price of the eight sales was $1,837,250, thanks mainly to one sale at more than $4.5 million, but in fact that was the only August sale recorded at less than its city assessment. The eight sales in August and nine in July are the lowest volume since January, 2016 and follow five months in which the number of sales ranged from 19 to 21 per month. The average mark-up over city valuation was 6.3 percent, bringing the annual figure to 9.3 percent. On average, listings spent 99 days on the market compared to 184 days in July, and three of the eight August sales went in less than a week.
The condominium market fell off sharply in July-August: no sales reported in July, only three in August, after 21 sales were posted in the second quarter of the year. The average mark-up in August was 18 percent but the sample is so small that the statistic is meaningless.
The number of listings on the market is still startlingly low, but the 61 counted in mid-September is a slight improvement over 56 a month earlier, hardly the 111 houses available at this time last year. The number asking less than $1 million has doubled from three to six, while the number asking more than $2 million is down by one, and in fact there are three fewer houses asking over $4 million than there were a month ago.
Things were remarkably slow in adjacent-Westmount as well, with only two house sales posted in August, one in the Circle Road area and one on St. Sulpice Road east of Westmount, along with a couple of half-duplexes on Grosvenor Ave. north of the city limits. So far this year, eight sales of houses in the "Golden Square Mile" area have averaged 31 percent more than municipal valuation, by far the strongest mark-up in adjacent-Westmount districts.
Posted by andy

Posted in: Monthly Analysis

No Comments »

August 2017