Andy Dodge & Associates
Latest News
Monthly archives
---
Search
---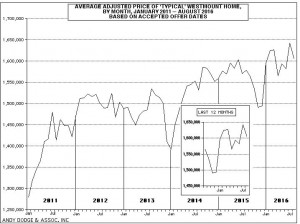 Download the Graph
Volume remained steady and prices reasonably strong in August home sales in Westmount this year, and in fact the year's volume is now stronger than for any year since 2007.
Eleven sales in a range between $565,000 and $4,450,000 make up the list for August, usually one of the lowest-volume months for real estate sales, but in fact volume is almost the same as in June and July. All but three of the sales were for more than the 2014 municipal assessment. Besides the top sale of $4,450,000, two others were posted for prices over $2 million, and besides the $565,000 sale, two others went for less than $1 million. Compared to the current municipal roll, the 11 sale prices ranged from 14 percent below to 43 percent above the municipal value.
It is our view that the volume portends a strong fall buying season, and already sales stickers are being ticked up on the September board. There are relatively few single-family dwellings on the market now: 111 in mid-September, compared with 160 a year ago, so this might help move properties. For the 11 August sales, they averaged 221 days on the market, which i unusually long, but this could be a sign that even "stale" listings now have a chance.
Condos are selling at a slightly lower pace, but two of the new units at 175 Metcalfe Ave. came off the books in August, along with an apartment nearby at 11 Hillside Ave. So far in the third quarter (July and August), six condo sales have been posted for an average seven-percent mark-up over valuation, compared with nine in each of the first two quarters, with mark-ups hovering around unity.
Adjacent-Westmount sectors have had a busy summer, too, especially western Notre Dame de Grâce, where 12 one- and two-family home sales have been posted since June 1. Among 23 sales in that sector so far this year, only seven have been over the $1 million mark, highest price for the year came in August at $1,570,000. The summer months have seen five sales north of Westmount, five between Atwater Ave. and Mount Royal Park, two in Shaughnessy Village and one on Redpath Crescent.
Twenty-eight houses have been rented through MLS so far this year compared with only 20 at the same time last year. Another 20 homes are listed for rent, five of those asking over $10,000 a month. Both of the latter numbers are about the same as a year ago.
Posted by andy

Posted in: Monthly Analysis

No Comments »

August 2016