Andy Dodge & Associates
Latest News
Monthly archives
---
Search
---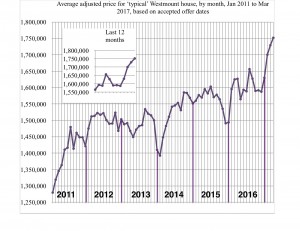 Download the Graph
Anyone driving around Westmount these days will have noticed a plethora of 'vendu' stickers slapped on top of an ever-decreasing number of 'à vendre' signs in all parts of town; as the market gets hotter and hotter this affects the prices, too.
Real estate agents posted 13 Westmount one- and two-family sales in March and added several more to the February list which now totals 20 sales. The highest price in March was $5,800,000, not quite a record for Westmount but certainly within the top ten prices (though see separate article about 12-14 Sunnyside). The next highest price was $2,320,000, less than half the top price; on the low side was one sale at $810,000, one of five sales in the $800,000 to $900,000 range, which helped pull down the average for the month to $1,689,487.
In fact, the $810,000 was actually 56 percent higher than that house's 2017 municipal evaluation, the highest mark-up of the month. Three houses sold below valuation, with the biggest mark-down at 11 percent. Overall, the 13 sales averaged almost 16 percent above tax value, up from 11 percent in February and 7 percent in January, so it is clear the market is on the move.
Condominium sales in the first quarter of 2017 included nine transactions, almost all in the range of $415,000 to $675,000, though one penthouse apartment sold for $2,100,000. The average markup for the quarter was 2.9 percent, with four sales above municipal valuation and five actually less, so it seems the fervour which is gripping the one- and two-family market is not reflected in the condo market.
And while Westmount proper recorded 13 sales in March, adjacent-Westmount saw the same number, including five sales in the eastern area of Notre Dame de Grâce, where three of the sales were posted at exactly $860,000 and one more at $855,000. The Côte des Neiges sector just north of Westmount has had nine sales so far this year, the NDG sector just west of the city limits as well as the "Golden Square Mile" have seven each.
As of mid-April, there are only 72 active listings for Westmount houses, down from 82 a month earlier and only about half the number in April 2016. The number of under-$1 million listings has jumped from 7 to 10 in the past month, while the number over $2 million is down from 42 in March to 37 in April. So far this year eight houses have been rented compared to nine at the same time last year.
Posted by andy

Posted in: Monthly Analysis

No Comments »

March 2017