Andy Dodge & Associates
Latest News
Monthly archives
---
Search
---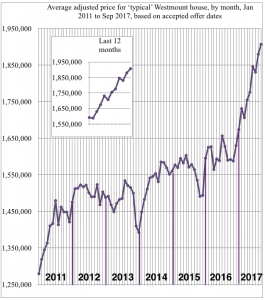 Download the Graph
The summer hiatus in the Westmount real estate market ended with a vengeance as August moved into September. Houses now are selling in a matter of days or weeks, mark-ups over valuation are in the double digits, inventory is going down and business districts are booming.
Another four sales were added to the August list since our last blog, and ten more which took place in September were posted in the last month by local realtors: the late August additions had mark-ups ranging from 16 to 67 percent, and all but two of the September sales had mark-ups ranging from 19 to 43 percent; four of the ten were over $2 million and the average days-on-market was cut in half, from 81 days in August to 41 days in September. Three of the houses sold in less than a week, only one took more than two months.
Prices ranged from $915,000 to $3,150,000; the latter sale represented the only mark-down of the month, 7 percent below tax assessment, which moved the average mark-up to 21.7 percent, up some 9 percent from the August average. Highest mark-up was 43 percent, but four others were in the 30-percent range and one other was more than 28 percent.
Houses are coming on the market almost as quickly as they are snatched up. The number available in mid-October was 59, down slightly from 61 in mid-September. Of the 61, seven involve asking prices less than $1 million and 32 — more than half — are over $2 million. Last year at this time there were 111 houses on the market.
Condominium sales, on the other hand, dropped off sharply in the third quarter of 2017, with only six sales posted compared to 23 in the second quarter, though mark-ups jumped to almost 13 percent from less than 6 percent in the second quarter.
September added 10 sales to the adjacent-Westmount list, including at least three very small houses just east of Côte des Neiges Road, two on Rockledge Court and one on Trafalgar Place, for less than $600,000 each. An important milestone was reached as houses in Côte des Neiges south of Queen Mary Road (including the Circle Road area) moved to an average price of over $1 million; the eastern part of Notre Dame de Grâce and the Shaughnessy Village area have average prices just below $1 million, while Trafalgar-Daulac and the "Golden Square Mile" are averaging close to $1.5 million each.
Posted by andy

Posted in: Monthly Analysis

No Comments »

September 2017