Andy Dodge & Associates
Latest News
Monthly archives
---
Search
---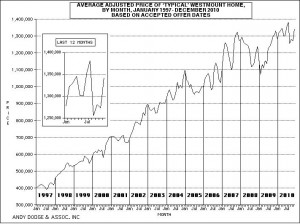 Download the Graph
Westmount real estate agents stayed busy in December, getting settlements on some houses which had been on the market since early spring.
Nine sales contracts were announced last month, all but one for prices over $1 million and all for more than their 2007 valuatiions, though four sold under the new 2011 municipal values. Volume is about average for December, in a year which generally has been below average in output, with only 146 one- and two-family sales during the year compared to an average 185.6. The number of days-on market leapt to 227, with all but three of the marketing times over 100 days, compared to an average 109 days in November. The highest price was $1,573,000, making this the second straight month and the third this year that nothing in Westmount sold above $2 million. There is still plenty of Westmount real estate being offered in that category (22 houses by our count), but buyers so far are scarce.
The adjusted average price of the 146 sales last year is $1,290,471, higher than the annual average for 2008 of $1,251,646 and up seven percent from the $1,209,430 figure for 2009. This is an indication that, so far as Westmount real estate is concerned, the recession of 2009 is officially behind us.
Only one condominium — a townhouse — sold in December and only three have been posted for the last quarter of 2010. Prices and markups stayed generally stable during all of last year, but the 37 posted transactions are up by about 9 percent from 2009, mainly because prices were much lower earlier that year.
One house sale was posted for the adjacent-Westmount districts last month, along with two flats in duplexes and one apartment at Fort de la Montagne, 3577 Atwater Avenue. This is an indication that buyers still are far more interested in investing inside the Westmount city limits, and prefer the investment value of houses to the lower prices for condos.
Now that the new year has passed we can expect demand to increase as buyers get ready for the spring market in Westmount.
Posted by andy

Posted in: Monthly Analysis

No Comments »

December 2010