Andy Dodge & Associates
Latest News
Monthly archives
---
Search
---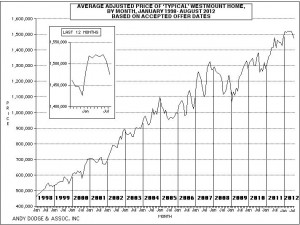 Download the Graph
Westmount real estate prices eased back in August, perhaps anticipating the upcoming September 4 provincial election, and it appears the election of a minority Parti Québécois government will do little to encourage buyers who are not quite ready to buy back into the local market.
The average price of a Westmount home tumbled from over $1.5 million down to about $1,475,000 in August, though agents did post nine sales in the month compared with only four in August last year, when vendors were unwilling to let their houses go for less than $1 million. This year, of the nine sales, five were under $1 million and one topped the $2 million mark, so only four sold in the median range between $1 million and $2 million. The lowest price was $760,000.
Even though prices are easing back now, however, the adjusted price of $1,513,843 in 113 sales this year is some eight percent over the adjusted price for 2011. The turn to a buyer's market has only been noticeable in the last two months. Our initial reaction following the Sept. 4 election was that the "waiting period" was over, but in the past week we have seen a dirth of buyers and more inquiries about selling than we are used to.
Perhaps more discouraging is the complete lack of condominium sales in Westmount, both for July and August; one more condo sale was posted as having taken place in June, but the statistic for the third  quarter of 2012 is still zero.
In adjacent-Westmount, two houses and a duplex in southern Côte des Neiges, two houses in eastern Notre Dame de Grâce and one more in western Ville Marie brought prices between $640,000 and $950,000, an indication that there is still activity in the under-$1 million market but the more expensive houses in Westmount are going to have to ease off. Even the big condominium buildings on Westmount's eastern border saw no activity in August.
Agents have also arranged five house rentals in the past two months, about the same number as last year, so it does not seem that potential buyers are choosing this option.
Posted by andy

Posted in: Monthly Analysis

No Comments »

August 2012