Andy Dodge & Associates
Latest News
Monthly archives
---
Search
---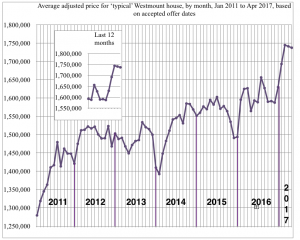 Download the Graph
The Westmount real estate market continued to sizzle in April, keeping the "typical" Westmount house's value over the $1,700,000 mark for the third month in a row and including three sales over $2 million, going as high as $3,200,000. In fact, the lowest price was $950,000, one of only two one- and two-family dwelling sales out of 15 to dip below the $1 million mark, which gives an indication there are few Westmount houses still available for less than $1 million.

In fact, so far this year there have been at least six cases of houses involved in bidding wars and several others which went for full asking price or more. A land sale in mid-level Westmount is an indication of a sense that the resale prices are now higher than the cost of buying land and building one's own house.
The average mark-up over municipal valuation in April was only four percent, but the average is skewed significantly by one sale of a high-priced property for only 75 percent of its valuation. That was one of five mark-downs in the month; the others range upward to a 22.5-percent mark-up. Only two of the houses were on the market longer than 100 days — two were listed for only two days each — and the other 13 averaged 33 days to sale.
The condominium market was not as strong, with three sales in April which had been listed between 60 and 280 days, two for less than municipal valuation and one for only 1 percent mark-up; in the first three months this year the average mark-up was only 1.56 percent in 11 sales.
The adjacent-Westmount market lingered, as well, with only three new sales posted in April after a very busy March, and only one of the three selling for more than municipal valuation. Still, it seems the houses in the downtown and Trafalgar-Daulac areas are drawing much stronger prices (compared to municipal valuations) than those in areas to the north and west of Westmount.
Just as dramatic is the list of houses for sale: a year ago there were 153 houses on the market in Westmount, this year only 40% of that number, 61. Even compared to mid-March, the number has dropped from 82 listings. Of those, only seven involve Westmount homes asking less than $1,000,000; more than half of all the listings, 35 out of 61, are asking more than $2 million. According to MLS statistics, more houses in Westmount (14) have been rented so far this year than last year (11). There are 22 houses listed for rent compared to 27 at the same time last year.
Posted by andy

Posted in: Monthly Analysis

No Comments »

April 2017