Andy Dodge & Associates
Latest News
Monthly archives
---
Search
---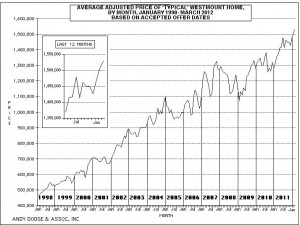 Download the Graph
Volume of real estate sales in Westmount tailed off in March, prices were modest but markups stayed strong, pushing the average for local houses past the $1.5 million mark.
Only 11 one- and two-family sales were posted by local realtors as having been negotiated in March, a big drop from the 20 reported in February. Only two were for prices over $2 million, the highest being $2,837,000, and three were for less than $1 million, one as low as $770,000. All of the sales were above municipal valuation but the highest price represented the lowest markup, at 2 percent, while the highest markup was 51 percent. Once the extremes are removed, the average markup goes up to 32 percent and the adjusted price of a Westmount house hits a new peak.
Three of the houses had been on the market more than 200 days  but all the rest were within a 90-day listing period, bringing down the average to 117 days, compared to 209 days in February when many of the houses sitting around from last summer were snapped up by eager buyers. More than two-thirds of all the single-family dwellings available for sale in Westmount right now were listed in the last three months; though the fastest sale in March was 17 days, it is clear the market is picking up.
The 11 sales inside Westmount were almost matched by eight one- and two-family sales in adjacent-Westmount districts, including six just west of Westmount and two on Hill Park Circle. The Notre Dame de Grâce sales included one at well over $1 million and an average price of $927,000, an indication at least this district is coming on strong as the Westmount prices go higher and higher.
Three condominium sales in March brings to 13 the number of condos sold in the first quarter of 2012, all for less than $1 million with an average markup of 20 percent, up only slightly from a year-long average in 2011 of 18 percent. The 13 sales include seven apartments between $480,000 and $900,000, and six flats in former duplexes and triplexes as low as $305,000.
Posted by andy

Posted in: Monthly Analysis

No Comments »

March 2012