Andy Dodge & Associates
Latest News
Monthly archives
---
Search
---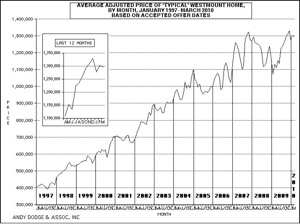 Westmount real estate prices held their own in March, hovering around the $1.3 million average where it has rested since about last October. With 16 sales reported in last month, the number has remained approximately the same as every month since October except for January, when only four one- and two-family homes were sold in Westmount. In fact, March is suppiosed to be the busiest of the year as buyers seek out homes for summertime moves, but this year the volume is fairly low.
The 16 sales include one for only $380,000, touted by agents as a "renovator's delight," but in fact the municipal valuation was only $209,800, so the markup was some 81 percent, by far the highest of the month. The $380,000 price was the lowest since 100 Abbott Avenue was sold last May (and registered in the same month) for $250,000; very few Westmount homes these days are selling for less than $500,000.
Top price in March was $1,900,000, an indication the four sales over $2 million in February were something of an anomaly, though Westmount had seen 14 two-million-plus sales in the year before that. And one house sold for less than municipal evaluation, in fact the first this year, with a stunning 14-percent reduction from tax value. The average markup was 31.3 percent, compared with 31.0 percent for February and 34.5 percent for January, thus it is quite consistent.
One condominium, a luxury unit at Château Westmount Square, sold in March, bringing the first-quarter total for 2010 to seven sales with an average markup of 23.4 percent, slightly lower than for one- and two-family dwellings. Prices in the first three months offered as wide a range as ever, with one studio apartment selling in February for $168,000 and a luxury unit selling in January for $2,200,000, so any talk of average prices would be misleading.
Seven house sales were reported in adjacent-Westmount areas, including three in Côte des Neiges south of Queen Mary Road, two of those surpassing the $1 million mark, as did one sale in the Trafalgar-Daulac area just east of Westmount. Prices appear to be strong in most areas but especially those two. Two other million-dollar-plus sales have been reported this year in the "Golden Square Mile" area of Montreal, among twenty home sales in adjacent-Westmount.
Posted by andy

Posted in: Monthly Analysis

No Comments »

March 2010