Andy Dodge & Associates
Latest News
Monthly archives
---
Search
---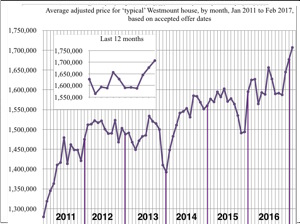 Download the Graph
Lower prices and higher markups show that the Westmount real estate market is getting stronger as we move to the spring market, though there is still some resistance to the $2 million-plus prices which are so much a part of the local market.
In the first two months of 2017 some 21 sales have been posted by local agents, about average for the first two months, but none have been above the $2 million mark and in fact six of the 21 were under $1 million, thus almost 29 percent which is the biggest percentage of under-$1 million sales (on an annual basis) since 2012. But the 21 sales have averaged eight percent above their new 2017 municipal evaluations, which are seven percent higher than the previous valuations, so the mark-up applied to the average valuation in Westmount has pushed the 'typical' value over $1.7 million.
In February, for example, 11 sales averaged only $1,166,783, but the prices ranged from $732,000 to $1,700,000, only three for less than municipal evaluation. A sale of two properties together in late January brought a net 13 percent more than the combined municipal evaluation of the two properties, but the breakdown of the reported transactions showed that one sold for more than double the tax assessment while the other went for far less than the deemed value. In February the highest mark-up was 33 percent, and the biggest mark-down 11 percent, compared to the new 2017 municipal evaluations.
Another sign of a strengthening market is that the average number of days-to-sale dropped from 235 in December to 166 in January to only 98 in February, and the latter included 7 of the 11 which sold in less than a month. Also, adjacent-Westmount posted 11 sales in January and February, including five in southern Côte des Neiges (Circle Road and Cedar Crescent areas) and two very expensive properties on Redpath Crescent.
Two condominium apartments sold in February, adding to a list from January which included one condo apartment, two duplex-type condos and two apartment co-ops, mostly in the range of $400,000 to $700,000.
The coming of the spring market brought a sharp increase in the number of available listings, to 82 from 67 in mid-January, but this is nothing like the 128 in mid-March last year. Only one Westmount house is being offered at less than $800,000, while one is on the market at more than $10 million.
Posted by andy

Posted in: Monthly Analysis

No Comments »

February 2017