Andy Dodge & Associates
Latest News
Monthly archives
---
Search
---
Volume of Westmount real estate tailed off in June but prices are still holding and in fact three multi-million dollar sales were negotiated during the month.
One transaction was recorded at more than $4 million and prices were held back on two other property sales which had been asking well over $3 million, an indication that there are still buyers for the big Westmount homes which had been languishing for months.
On the other hand, only eight sales so far have been reported to have sold in June, including only one other over $1 million and three under $650,000, so it seems the mid-range houses are the ones suffering now. Of the houses that sold, four had been on the market more than 200 days, and while new houses are coming on the market every week, sellers can expect to wait much longer to get buyers these days.
Two condominiums sold in June, bringing the second-quarter volume up to 7 sales for prices ranging from $259,000 to $980,000, and the average markup over valuation is 19 percent which is the highest it has been since the 2007 valuation roll was deposited. This is an indication that condo prices are generally higher, by some six percent over the first quarter of this year.
Adjacent-Westmount houses are moving slowly, with two sales north of the city and two to the west, but nothing in the Trafalgar-Daulac area on the east side of Westmount.
The real estate market generally slows down during the mid-summer months, but there is no reason to believe it will not pick up again in late August and September.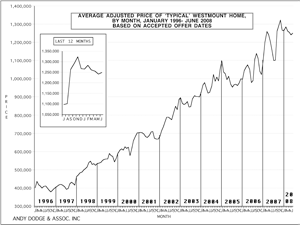 Download the June Graph as a PDF
Posted by andy

Posted in: Monthly Analysis

Comments Off on June Sales: Prices Still Holding

June 2008