Andy Dodge & Associates
Latest News
Monthly archives
---
Search
---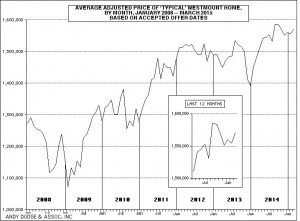 Download the Graph
Ho hum. Just another $6 million house sale in Westmount.
Another of the city's more stately homes was sold in March, at exactly $6 million becoming the fifth-highest single-family dwelling to sell in Westmount. That list is topped by the $7 million transfer of 3617 The Boulevard in March of 2012 and $6.7 million paid out for 4299 Montrose Ave. last July. Details of this one must be confirmed before the address is published; suffice to say that the price was well below the asking price but still mighty, even in Westmount terms.
Added to this was another late-February sale which brought $3,550,000 for a property evaluated at only $2,080,300, a substantial 70-percent markup which affects the statistics for that month, as well. Essentially it means the market is leveling off at the $1,550,000 level, an average which more and more people seem able to afford with 12 over-$1 million sales in February and another 11 in March. The only March sale below $1 million was one of the townhouses on St. Catherine St. near the old Westmount train station, which went for only $545,000. Between that and the $6 million top price, everything else ranged between $1,090,000 and $1,675,000.
The dozen sales in Westmount in March averaged more than 11 percent above their municipal valuations, ranging from a 6-percent markdown to almost 31 percent above the assessment. Even with the 70-percent markup mentioned above, the average for February was only 5 percent above tax value; each month had four markdowns, the rest as high as 30 percent above city valuation. Volume was below average but we expect agents may post late sales, as they did in February when volume was actually higher than average. Agents seem to have many eager buyers out there as we move into the spring season, and we are hearing about multiple offers on properties.
The last three months saw six condominium sales averaging $784,803, in a range between $315,000 and $1,550,000, three sales above municipal valuation and three below with an average six percent markup. Another six co-op apartments also sold in a range from $350,000 to $900,000 with an average $668,667. This does not include five sales arranged for 175 Metcalfe Ave., Westmount's newest condo building which has yet to be put into the tax roll.
Adjacent-Westmount areas were busy in March, especially eastern Notre Dame de Grâce with four sales of houses and duplexes between Westmount and Décarie Bivd., plus two duplex-condos. Markups improved in most of these areas; in NDG and Côte des Neiges the prices ranged from $650,000 to $980,000, while east of Westmount three sales ranged from $1,050,000 to $2,860,000.
Posted by andy

Posted in: Monthly Analysis

No Comments »

March 2015