Andy Dodge & Associates
Latest News
Monthly archives
---
Search
---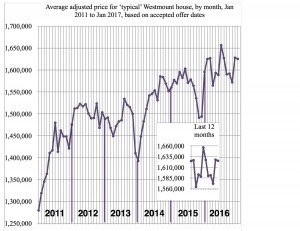 Downlad the Graph
Seven home sales in Westmount in January gave a hint that buyers will be pushing prices up in the coming months. Though none of the $2-million-plus houses on the market moved in January (though we did hear belatedly of one upper-Westmount sale for nearly $4 million in December), the seven sales included three with mark-ups of more than 10 percent and only one which sold below the (2017) municipal assessment.
Only four of the seven were over $1 million and none were over $2 million, the first time that has happened since April of 2016. The highest price was $1,865,000 and the lowest $665,000, the latter for a small house evaluated at $771,000, the only mark-down of the month. All the others sold above their 2017 municipal tax value with the highest mark-up of 37.4 percent and an average 14.3 percent. That compares to an average mark-up in December — on the 2014 valuations — of only 2.6 percent, and the new valuations are up between 5 and 10 percent, which makes the increase that much more. Two of the seven were listed and sold in January, bringing down the average time on the market from 231 days in December to 158 days last month.
We might suggest that buyers are scouring the bottom of the Westmount market to get what they can, and that prices will start moving up when the lower prices start to disappear. The hungry bottom-feeders did find two adjacent-Westmount properties, one just east of Westmount and the other just to the west, selling for $600,000 and $830,000 respectively, and one other in the Circle Road area went for $1,450,000. Unlike December, when there appeared to have been a great deal of interest in adjacent-Westmount properties, the buyers are setting their sights back inside the city limits.
No condominiums or co-op sales were posted for January, leaving blank the statistic for the first quarter of 2017. This despite the fact there were 14 condo sales in the fourth quarter of 2016, the most for a fourth quarter since 2007.
As we move into the spring season, single-family listings jumped from 67 in mid-January to 80 in mid-February, but this is still far less than the 122 or so at the same time last year. Just over half of the new listings are for houses in the $1 to $2 million range. Meanwhile, 22 houses are offered for rent, about the same as last year, but only two have been rented through agents in Westmount so far this year.
Posted by andy

Posted in: Monthly Analysis

No Comments »

January 2017