Andy Dodge & Associates
Latest News
Monthly archives
---
Search
---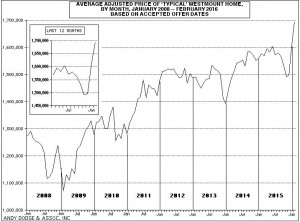 Download the GraphNews of another $5 million-plus sale (in late January) and above-average volume for February served to drive an upward spike in the Westmount real estate graph, as overall confidence appears to be returning to the market which had been so hesitant during the fall. Last year's he market peaked in June last year with the average Westmount house value close to $1.6 million; now the figure looks closer to $1.7 million as we enter the high-demand spring market.
Volume reached 16 one- and two-family sales last month, which is the highest for February since 2010, and added to eight sales in January is above average for the first two months. So with both prices and volume showing a strong interest, things are looking good going into the busiest months of the year, March through May.
With the February sales list shows none of the drama of the $5,780,000 price agreed to on the last day of January, the average markup over municipal evaluation climbed to 15 percent in January and 18 percent in February, compared to an average for all of last year of 7.3 percent and the highest monthly markup of 13 percent, based on the same municipal valuation roll. Two houses in February sold for more than 60 percent above tax value, while only three sold below assessment, with the biggest markdown only six percent. The lowest price (for a single-family dwelling) was less than $461,000 but involved what is believed to be one of the smallest houses in Westmount. Three others sold under $1 million, only two over $2 million with the top price of $2,335,000.
Condominiums, it appears, have not drawn the same interest as their one- and two-family counterparts. Five sales have been posted so far for 2016, prices between $400,000 and $840,000 but none of the luxury apartments among them. Volume is about the same as it was for the first two months last year, but then two apartments sold for more than $1.2 million each. The average markup so far this year is just over 6 percent, compared with a first-quarter figure last year of 7.75 percent.
Six more adjacent-Westmount sales were posted in February, prices for one- and two-family dwellings ranging from $695,000 to $2,025,000, mostly above valuation but with some notable exceptions.
The latest (March 11) listings data shows 128 houses on the market in Westmount, compared to 147 at this time last year; then, there were 16 asking less than $1 million, this year only 10, and 62 were over $2 million compared to 59 this year, so that price bracket has not changed much. For most of last year volume ranged between 150 and 160 houses for sale, so it can be expected that more will be coming on the market shortly.
Posted by andy

Posted in: Monthly Analysis

No Comments »

February 2016