Andy Dodge & Associates
Latest News
Monthly archives
---
Search
---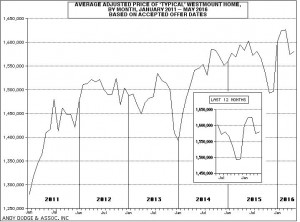 Download the Graph
Volume soared in May real estate in Westmount, with 26 one- and two-family sales compared to only 15 per month in the previous two months. That is the most we have recorded in a month since May of 2011 and one of the busiest months in recent Westmount history.
All but five of the sales cleared the $1 million mark and four were for more than $2 million, with the top price at $3,200,000. The lowest price was $652,500 and two others were for less than $800,000. Seven sales were logged at prices below municipal evaluation, the lowest at only 68 percent of tax value, while one house below Sherbrooke Street sold for 91 percent above the city figure, by far the highest mark-up of the month.
So far this year agents have logged nine sales over $2 million, of which six have been for less than tax value, compared to an average mark-up of eight percent, so there is every indication that the gap between the more expensive houses and the mid-range homes is narrowing somewhat. Still, the fact that the May list includes four of the nine sales over $2 million might mean that the market for these houses is starting to come back.
Also sold in May were four condominiums — three apartments and a portion of a former triplex — and one co-operative apartment. So far in the second quarter (April and May) a total of seven condominiums brought prices ranging from $370,000 to $1,500,000. Condos on average this year are selling at just about parity with municipal evaluation, and in fact prices have moved little since 2012, the basis for the current valuation roll, so it is possible there will be little change in condo valuations in the 2017 roll.
The buying fervor which gripped Westmount in May did not spread beyond the borders of the city, where more divided or undivided shares of duplexes sold than the five houses, which included one each in the Circle Road area, "Golden Square Mile" and Trafalgar-Daulac areas, and two in eastern Notre Dame de Grâce. Markups indicate that interest in adjacent-Westmount is still strong, and prices are up 2.5 to 9 percent compared to last year.
June is generally a "take-it-easy" month for Westmount real estate, but considering the fervor of May and the very late spring season, we would not be surprised to see another strong month. Because of the heavy May volume, Westmount in mid-June was advertising only 138 active listings, compared to 153 a month earlier, though the number asking over $4 million has jumped from 16 to 20.
-30-
Posted by andy

Posted in: Monthly Analysis

No Comments »

May 2016