Andy Dodge & Associates
Latest News
Monthly archives
---
Search
---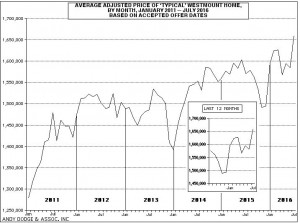 Download the Graph
Local real estate agents might have taken off in early July and waited to post their June sales until they returned. Our report last month was that only four one- and two-family sales had taken place in June; now it appears that number has grown to 12 sales, and with another 10 in July, Westmount now has tallied more sales this year than in any year (through July) since 2008.
The June sales averaged $1,559,000 and prices were 15 percent above their respective municipal evaluations, with three sales above the $2 million mark and only one lower than $1 million. In July, only one high-priced sale was reported compared with five below $1 million, in fact all between $800,000 and $900,000, so the average moved way down. When adjustments are made it seems the "typical" Westmount house is reaching new heights, though as usual we are wary in our enthusiasm until we see how the fall market fares.
Five condominium sales were reported in July, including two duplex-type sales in the $700,000 range and three apartments between $489,000 and $652,000. The average mark-up was six percent, a significant boost compared to the two-percent mark-down in the previous quarter. Thus we can say that market is getting stronger, too, though still weaker than the single-family market.
Adjacent-Westmount was busy, too, with eight one- and two-family dwellings to add to the list, including two to the north, three to the east and three to the west of the city limits. By district, markups range from about 10 to 20 percent; prices average about $878,000 to the west, $1,070,000 to the north, $1,358,000 east of Westmount, including the "Golden Square Mile." The highest recent price, for a semi-detached newer home on Jean Girard Ave., was $2,100,000.
As of mid-August there are only 111 active listings for Westmount houses, the lowest number in the last two years, with reduced numbers in all price brackets. Another 23 houses are now for rent, six of those asking $10,000 or more. To date some 24 houses have been rented this year compared with only 19 at the same time last year.
Posted by andy

Posted in: Monthly Analysis

No Comments »

July 2016