Andy Dodge & Associates
Latest News
Monthly archives
---
Search
---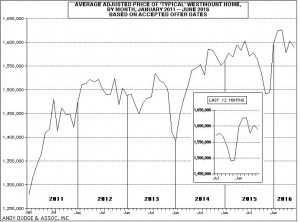 Download the Graph
Only four new Westmount sales were posted by local agents in June, putting an absolute stall to the surging market of May, when 27 sales were reported.
This remarkable relapse comes at a time that the federal government is fretting about he "overheated" Toronto and Vancouver markets, and we were worried the Westmount market might join their ranks, but it seems summer has taken its toll and quieted a frenzied buying spree. Prices ranged from $1,349,000 to $2,050,000, and mark-ups over valuation from 7 to 39 percent, so there was nothing either very low nor very high. The volume is the lowest for a June since we began keeping records, but it is expected that some agents might be a little late in posting sales agreements during summer months; in 1991, 1993 and 1994 the respective June figures were five, though the total volume in each of those entire years was about average, so the stall might not portend a slump for the rest of the year.
In fact, there were more one- and two-family dwelling sales on the fringes of Westmount than there were within the city limits: two each to the north and west of the city limits, one on Tupper St. and one on Cedar Ave. just east of the border. Only one sale was over $1 million and mark-ups were slightly lower than in previous months.
One more condominium sale puts at nine the number of condo sales in the second quarter of 2016, four apartments and five duplex-type condos which averaged 2 percent below municipal tax value, while in the first quarter of the year the average was 3 percent above valuation. Another co-op apartment at 2 Westmount Square also was sold in June.
At latest count the number of available listings has actually dropped to 128 houses in Westmount, down from 138 a month ago and 153 in mid-May; we suspect several houses were taken off the market and may come back on in September. Only 13 of those listings are for houses less than $1 million, though that figure is up two from mid-June. Another 17 are listed over $4 million. So far this year the Montreal Real Estate Board reports 21 houses have been rented, up from 18 at the same time last year.
-30-
Posted by andy

Posted in: Monthly Analysis

No Comments »

June 2016