Andy Dodge & Associates
Latest News
Monthly archives
---
Search
---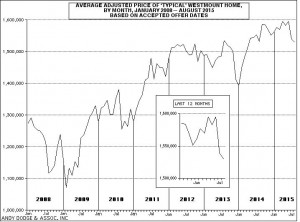 Download the Graph
Westmount real estate agents were complaining to us last month that they weren't getting any time for vacations, considering the interest in local property. Indeed, eleven sales have been posted for August, compared with five in the month last summer and only two in August 2013 In fact, only four times since 2000 have there been more sales in August. This may be because of the falling Canadian dollar, and the fact that Westmount is the first choice for wealthier foreign buyers, though that does not explain the falling prices compared to earlier this spring.
Two of the houses sold in August had been on the market for almost two years and another for almost a year, helping pull up the average days-on-market to 213 compared with 155 in July. Five of the 11 sales sold below municipal evaluation and the average price was three percent below valuation. Highest price in August was $3,500,000, but that was for a house evaluated at more than $4.7 million, so the 26 percent markdown was by far the biggest of the month. The highest markup was 28 percent and the lowest price was $621,000 — still more than the asking price — which was the only sale under $1 million. While the average price in August was just under $1.6 million, the adjusted average , thanks largely to the markdowns, dropped to about $1,530,000, its lowest point since April, 2014.
Three condominium sales were posted in August; added to one in July that brings the third-quarter total to four so far, compared with six in the second quarter and nine in the first quarter of 2015. For each time period the average markup has hovered between eight and nine percent, up only 0.5 percent compared with the 2014 sales.
In adjacent-Westmount areas, a very busy July (11 sales) was followed by only two house sales in August, both in eastern Notre Dame de Grâce, for prices hovering around $800,000. So far this year, among one- and two-family properties, 27 of 56 or nearly half have been over $1 million, but only five over $2 million compared to 15 of 104 within the city limits.
Despite the higher number of sales, at last check there are now 160 houses listed for sale in Westmount, up from 154 a month ago. Sixteen of these are asking between $4 million and $8.68 million, while only 13 are asking less than $1 million. The number of houses available for rent — from $2,000 to $25,000 per month — stayed at 22, the same number as in both June and July. To date this year some 20 houses have been rented, almost all between $2,700 and $8,000 per month, though one is bringing its owner $20,000 per month.
Posted by andy

Posted in: Monthly Analysis

No Comments »

August 2015