Andy Dodge & Associates
Latest News
Monthly archives
---
Search
---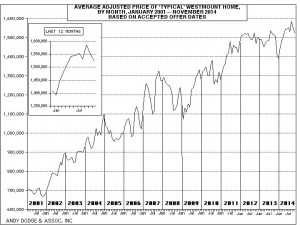 Download the Graph
Markups may have moved down slightly but the month of November showed great promise in Westmount real estate, with two more sales over $2 million — and another $3 million-plus on October 30 — giving an indication that buyers may be ready to pay the hefty prices demanded by vendors of some of Westmount's larger homes. The average price of 11 sales in November was just over $1,700,000, but markups were only two percent above valuation, with five of the one- and two-family homes selling for less than tax value. Still, only four of the 11 carried prices less than $1.5 million and the highest was $3,998,000.
In fact, though the graph might indicate that prices are sliding somewhat, we prefer to point out that since April the adjusted price of the "typical" Westmount house has hovered around $1,550,000 and will probably stay that way through December, to round out the year. Agents say there are still plenty of buyers out there; as of last week those buyers had 138 MLS listings to choose from, almost 50 percent of which were over $2 million and only four for asking prices less than $800,000.
The condominium market was virtually dead during November, it appears, with only one co-op in Westmount Square to add to the totals. Of the four condo sales we have tallied for the fourth quarter of 2014, three took more than 300 days each to sell,, and the average days-on-market for the fourth quarter is 341, almost exactly the same as it had been in the third quarter of the year.
In adjacent-Westmount areas, six house sales were posted in November, the last one on Nov. 12, an indication buyers were more inclined to choose the more expensive Westmount properties. In fact, the last three outside the city limits (two in Côte des Neiges, one on Redpath Crescent) were all over $1 million, an indication the buyers are willing to commit more to their homes than they were, say, two or three months ago.
Suffice to say there appears to be a stir in the Westmount real estate market, though we expect volume to fall off during the holiday season and we are not quite sure how the falling oil prices are going to affect the overall economy. But at this point, anyway, we are looking at a glass half full.
May you all have a wonderful Hanukkah, Christmas and New Years and a peaceful and prosperous 2015.
Posted by andy

Posted in: Monthly Analysis

No Comments »

November 2014