Andy Dodge & Associates
Latest News
Monthly archives
---
Search
---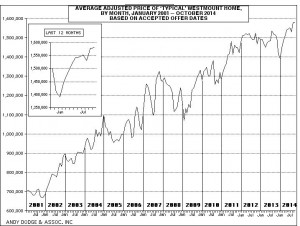 Download the Graph
The value of the 'typical' house in Westmount climbed slightly higher in October and is starting to show signs of a healthy market here, though volume was slightly lower than September and still the high-priced houses cannot find buyers.
Westmount's market plodded through October with four sales recorded until suddenly, in the last week of the month, things began to move. Another five sales were settled between October 25 and October 31, and then, it seems, the pace continued into the first week of November.
Two home sales over $2 million were posted by agents last month, with the highest price at $2,500,000,still hardly the price sought by many of Westmount's fancier listings. So far this year there have been 19 sales over $2 million, with five in April (just after the provincial election) and another three in June. Last year's registrations counted 20 homes over $2 million and 34 in 2012, so it seems the number of people ready to invest that kind of money in Quebec is diminishing. Still, five houses listed on MLS are asking more than $7 million and another seven would like between $5 million and $6 million. Thus far in 2014 only two house sales and one condominium have been reported sold for more than $4 million.
The average house sold in October for 5.5 percent less than its municipal evaluation, but one very high-priced sale was sold well below the city tax value. With the extremes removed, the average moves up to a four-percent markup. For the year so far, houses have been selling at an average 3 percent more than valuations, though the markups in January and February were much lower than for the rest of the year.
Lowest price in October was $575,000, one of only two houses to sell below $1 million —and actually, the other sale was $943,500, very close to the $1 million mark. Five of the nine prices were less than valuation, an indication that the city tax value is not always the base price sellers should accept, especially in this somewhat fickle market. Whether the latest "rush" to buy is going to drive prices up remains to be seen, though we are getting close to the holiday season which is generally slow for local real estate.
The condominium market was reasonably strong with four apartments sold in October for an average six percent markup. Also sold was one more unit at 1250 Greene Avenue, but valuations have not yet been established on these units so we cannot compare. In adjacent-Westmount, four homes were sold, two in the downtown area and two more in eastern Notre Dame de Grâce. Prices generally hovered around the $1 million mark.
Posted by andy

Posted in: Monthly Analysis

No Comments »

October 2014