Andy Dodge & Associates
Latest News
Monthly archives
---
Search
---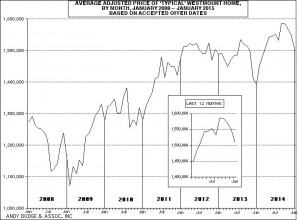 Only three single-family homes and one duplex in Westmount were sold in January, according to MLS data, the lowest volume since December of 2013, but the list includes one sale over $4 million and another over $2 million, again reflecting the interest in many of Westmount's more expensive houses. The sale at $4,450,000 involves a house evaluated over $5 million, which had been on the market for more than two years.
The duplex also sold under valuation, but still cleared $1,200,000, while one row house on Lansdowne Avenue went for $848,000, lowest price of the month. The average markup over valuation was only one percent, and the adjusted averages show the current level to be the lowest point since April last year, when the provincial election was held.
There was, perhaps, more interest in apartments, with three condominiums and three co-op apartments moving in January. One of the condos involved the under-construction building at 175 Metcalfe Ave., while another was one of the remaining unsold apartments at 1250 Greene Avenue. And certainly, for once, there was considerable interest in adjacent-Westmount properties, with two home sales in the Côte des Neiges area just north of the city, one just east of Westmount and one more in the "Golden Square Mile," though this was a newer townhouse on Redpath St.
Seven rentals were posted in January, including one house which will cost its tenants $4,500 a month. Last year 28 houses were rented for prices ranging from $2,800 to $13,500 per month, so this would be among the lower rents of last year.
As of this writing, there were 134 houses for sale in Westmount, 60 of them (45 percent) asking more than $2 million, only 16 (12 percent) less than $1 million. This is down from 150 listings in October, 72 of them over $2 million, which might mean sellers are getting more realistic about the prices or that the big houses are moving and fewer new ones are coming on the market.
Posted by andy

Posted in: Monthly Analysis

No Comments »

January 2015