Andy Dodge & Associates
Latest News
Monthly archives
---
Search
---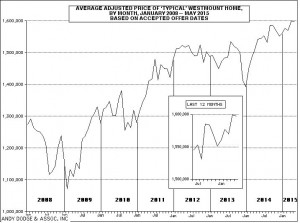 Download the Graph
Westmount's late-spring sales market is showing some signs of promise for the owners of the city's more expensive properties, with three more $2 million-plus sales in May and the highest average markup over valuation since the 2014-15-16 valuation roll came into effect last year.
So far in 2015, agents have reported 11 sales over $2 million in Westmount, compared to 12 in the first five months last year. Of those, six have been over $3 million compared to only four such sales in the first five months last year; in fact, only seven such sales in the entire year.
On the low side, four sales under $1 million in May brings the total for the year to 12, compared to 13 in the first five months last year. The lowest price then involved one of the townhouses on St. Catherine St. in front of the Westmount Railroad Station; three more of those have sold this year and make up the lowest prices for 2015.
Overall, the average markup for May was 15 percent, with only three of the 15 sales recording prices less than municipal valuation. Prices ranged from $789,000 to $3,325,000 and markups from 9 percent below to 39 percent above tax value. Volume has been almost even for the past four months, between 14 and 16 sales per month. In fact, this May agents recorded more sales (by one and two, respectively) than in May in either of the past two years.
The only apartment sale in May was a small co-op apartment on Chesterfield Ave. which went for $440,000. Adjacent-Westmount sales were highlighted by three in the sector just north of the city limits, one each in the other sectors: Notre Dame de Grâce, Shaughnessy Village, Trafalgar-Daulac and "Golden Square Mile." Prices are up between 8 and 14 percent this year in each of the districts except eastern NDG, where 10 sales in 2015 record slightly lower prices than the 22 in all of last year.
In mid-June, there were 159 single-family homes listed for sale in Westmount, 61 of those (38 percent) asking more than $2 million, and in fact 18 asking more than $4 million. So far this year 11 houses have been rented for monthly rates between $2,700 and $7,000, compared to 14 house rentals arranged between January and May last year, in a range between $3,000 and $13,500.
Posted by andy

Posted in: Monthly Analysis

No Comments »

May 2015