Andy Dodge & Associates
Latest News
Monthly archives
---
Search
---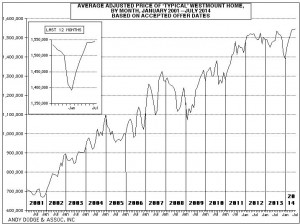 Download the Graph
Westmount appears ready to shrug off the worries, exhaustion and doubt that have marked the real estate market in recent months. In what is usually considered the summer doldrums, buyers were cleaning up what was left of the long-lingering 2013 inventory and starting to snap up some of the newer listings.
Agents report 11 home sales in Westmount during July, slightly above the average volume of 10.5, and a price range between $700,000 and $3,600,000, the latter for a house which had been on the market more than two years. There were three sales under $1 million, two over $2 million, and the average price was just under $1.5 million. The price:valuation ratio was at virtual parity, with six of the eleven sales less than the city's 2014 assessment.
This year's market got off to a very slow start, with only 17 sales in the first two months compared to 23 in 2013 and 29 in 2012, but actually has been rebounding ever since, now up to 97 sales in the first seven months compared with 89 for the same time period last year and 104 in 2012. At last count there were 135 single-family homes listed for sale in Westmount, compared to 142 in mid-July, almost half of them asking upwards of $2 million. Only two of the 11 sales were for prices over $2 million, so that category of homes still has not found a firm footing in Westmount. Still, 18 sales over $2 million and five of those over $3 million is not a bad record.
Three of the new apartments at 11 Hillside Avenuie sold in July, along with two others on Clarke Avenue, giving some signs of life to a limping condo market. Prices were five percent less than the municipal evaluation, on average. Only one month into the third quarter, the number of condo sales so far equals the number sold in the previous three months.
In adjacent-Westmount areas, four home sales were recorded including one downtown townhouse for $1,820,000. So far this year almost all the homes in the downtown area have sold for prices over $1 million, as have five of 12 homes just north of Westmount but only two of 12 between Decarie Boulevard and the western city limits.
Posted by andy

Posted in: Monthly Analysis

No Comments »

July 2014