Andy Dodge & Associates
Latest News
Monthly archives
---
Search
---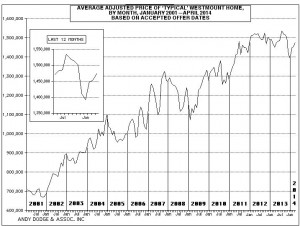 Download the Graph
Yes, Virginia, you can sell your house.
A huge brick mansion on Montrose Ave. just east of Mount Pleasant Ave. sold in April for $6,700,000, the second-highest price ever paid for a house in Westmount and the highest ever sold through Multiple Listing Service, according to Marie-Yvonne Paint, who listed it last August and had to wait for last month's election to be able to bring its owners an offer they could accept. That sale solidifies the notion that there is, indeed, a market in the over-$2 million range. With three sales over $2M in March and another three in April, those whose houses are truly in that price range can rest assured that there are buyers willing to pay the price.
Trouble is, volume which was above average in March (21 sales), appears to have tailed off in April, an indication the buyers wanted to wait and see what everyone else was going to do before taking the plunge. Eleven of 14 sales posted by agents in April were accomplished in the second half of the month. With the euphoria over the April 7 election results, 38 new properties have been listed in Westmount, 16 of those over $2 million, bringing the total listed over $2M to 73 properties. So there might be a market out there, but buyers can still be picky about their choices.
Overall in April, only two sales were for less than $1 million, both lower-Westmount houses which sold in the high $600,000 range. Exactly half of the 14 sales were for less than their municipal evaluation, and the highest markup was only 16.6 percent. The average price: valuation ratio was 95.7 percent, down slightly from 100.4 percent in March but higher than in the first two months of the year.
There were no condominium sales posted in April, just two co-op apartments in Westmount Square, and those were on April 1 and 3, before the election . Five homes sold in adjacent-Westmount districts, four for less than $1 million and one in the Circle Road area for $1,428,000. Again, we were surprised that there were no condo sales in the big buildings just east of Westmount.
At last count there were 164 houses offered for sale through MLS in Westmount, up from 146 in mid-March, so there's still a long way to go, but hopefully things will thin out as we get toward the summer months.
Posted by andy

Posted in: Monthly Analysis

No Comments »

April 2014