Andy Dodge & Associates
Latest News
Monthly archives
---
Search
---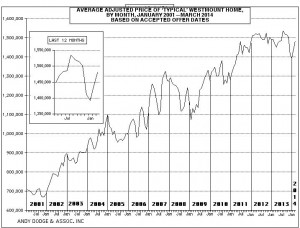 Download the Graph
Announcement of the provincial election and the fast rise of Liberal fortunes in the polls gave a boost to the Westmount real estate market in March, with 18 sales posted by agents of which all but two were for $1 million or more.
One house sold over $3 million and one more over $2 million, indicating that buyers were still apprehensive about spending too much money on real estate, with the future of Quebec still in limbo. The total sale price was just only 0.3 percent less than the total valuation of those properties, marking an improvement from the 20 percent markdown in January or the 9 percent markdown in February.
The prices ranged from 30 percent below valuation to 76 percent above; seven of the 18 one- and two-family sales were below valuation. The average time on the market was 139 days, with three listings lasting less than 3 weeks, five more than seven months.
In fact, the 18 sales in March was actually more than in March of any of the past three years and only 1.2 less than the average number for March in the past dozen or so years. Still, with the hesitancy of buyers in the first two months, volume in the first quarter was among the lowest so far this century.
Only one more condominium sale was posted in March, bringing the total for the first quarter to eight, of which seven were apartments in larger buildings. Again, the price:valuation ratio in the quarter was 96 percent, with listings lasting from 1 to 307 days and averaging four months.
Four houses were sold in adjacent-Westmount areas last month, with significant markups in two sales this year in the "Golden Square Mile" district. The other districts have average prices very close to municipal valuation, similar to Westmount.
Now, of course, buyers and sellers will be relieved with the relative stability of a strong majority government. There is still much to clear out at the top of Westmount's market, and in fact two new listings over $3 million have appeared since the election.

Posted by andy

March 2014