Andy Dodge & Associates
Latest News
Monthly archives
---
Search
---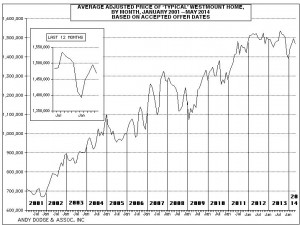 Download the Graph
The very late-starting Westmount real estate market is slowly returning to normal, but there is a fear that too many homeowners this late in the season might cause a glut on the market and drive prices down.
One dozen single-family sales were negotiated in May, down from 17 in April and 21 in March, but prices and markups are way over where they languished in January and February. One more sale was accomplished at over $4 million, and one late posting for April exceeded $3 million, meaning in five months this year there have been 11 sales over $2 million compared with 15 for all of last year.
The average price stayed strong in May at  $1,490,375 and the adjusted price dipped slightly but basically held its own in May. Agents do not feel any surge in prices because of the provincial election results, just more confident that houses which have been languishing on the market for almost a year will finally begin to move, so long as the asking price is reasonable. Half the houses sold in May had been on the market for less than a month, which may mean (a) there is less inventory still available from last year, and (b) it is much easier to sell the houses. Even in May, the average markup over valuation was only three percent, with seven sales above valuation and five below.
Long stays on the market, however, still plague the condominium/coop market in Westmount. No sales were reported in either category; for May, there were two condo apartments, two co-op apartments and two shares of duplexes/triplexes. None of those had been on the market less than 129 days and the average days-on-market was 364, basically one year. The average markup of the two condos was five percent, about the same as for single-family homes.
And if a dozen Westmount sales was a reasonable number, seven more in adjacent-Westmount areas was even more impressive, with three sales each in southern Côte des Neiges and eastern Notre Dame de Grâce, only one of those over $1 million. Another just east of Westmount topped $1.8 million.
So even if there is not a notable surge in local real estate prices, there's plenty of activity out there (except maybe for condominiums) as we settle into the summer months.

Posted by andy

May 2014