Andy Dodge & Associates
Latest News
Monthly archives
---
Search
---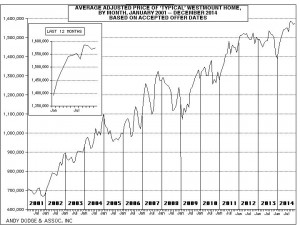 Download the Graph
People driving around Westmount these days may notice "sold" stickers on many of the more stately mansions, and indeed, fully half of the city's houses with more than 350 square metres floor area which sold this year were negotiated in the last three months. A dozen big house sales were reported by local agents between September 23 and December 13, three of those in December. Of the dozen, only two brought prices over $3 million and two were under $2 million; the average time on the market was almost exactly one year (364 days) and the fastest sale was 78 days from listing to agreement.
The three big-house sales in December only went as high as $2,400,000 and joined three other sales between $1,210,000 and $1,547,500. So for the first time since August of 2013, there were no sales posted under $1 million, and in fact in August 2013 there were only two sales reported.
Because one of the big houses sold for only 70 percent of its valuation, the average price:valuation ratio in December was 99 percent, transmuting to a 6.6 percent markup once the extreme sales are removed, which is why our graph shows a very slight uptick for the month. From the agents' point of view, we have to recognize that things are looking up as we move into the new year. The market is strong, though not as strong as we would have anticipated following last April's election.
For the year, volume was slightly higher than in 2013 and the average price of 148 sales was more than $1.525 million, the highest average price in Westmount's history. Again, many of these were the very large Westmount homes which were selling in the $2 to $3 million range, so the "typical" Westmount house price actually fell from $1,511,000 in 2013 to $1,484,000 in 2014.
No condominium sales were posted in December and only one in November. For the year, volume dropped to 26 from 33 the year before, but the average adjusted price climbed to almost $843,000, up 3.7 percent from 2013. Three adjacent-Westmount home sales in December brought the total for the year to 68, up from 62 in 2013. High prices and high markups were recorded especially in the area just east of Westmount, thanks mainly to the big newer homes on Jean-Girard Ave. and Saint Sulpice Rd.
It appears to us that the spread between the prices of the large homes and the "average" Westmount residences is narrowing quite a bit, and of course condition is becoming more and more important as time goes by. It should be remembered that the 2015 sales provide the basis for the next valuation roll in 2017, so the narrowing market may mean (eventually) lower taxes for the more expensive homes, higher ones for the less expensive.

Posted by andy

December 2014