Andy Dodge & Associates
Latest News
Monthly archives
---
Search
---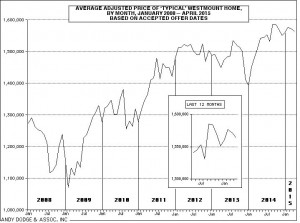 Download the Graph
Westmount's normally-busy spring real estate market sputtered somewhat in April, but prices remained strong including one more $4 million-plus sale — the third so far this year, compared to only two in all of last year. Thirteen sales were posted in April, compared to an average 17.7 over the previous seven years, bringing the total for 2015 to only 48, less than the 50 which took place in the first four months of 2009, when the recession of that era was reaching its peak.
Still, the average price of the thirteen sales in April was $1,631,530, and the markup was 6.8 percent, similar to the statistics for the entire year so far and higher than the average $1,527,906 for all of last year.. The average days-on-market was a very high 270, reflecting the fact that three of the houses sold inApril had been on the market for well over a year; the second-highest priced sale had been marketed for more thatn two years, and at $2.2 million went for less than its municipal evaluation, one of three houses to be marked down in the month.
Three houses sold for less than $1 million in April, including another of the townhouses in front of the Westmount Railroad Station which sold for $546,000. The other two were between $800,000 and $900,000.
Three condominium apartments sold last month, all for prices between $425,000 and $495,000 and an average markup of 10 percent, while one co-op apartment at 3 Westmount Square — again, on the market for well over two years — sold for $1,425,000. Two others in 2 and 3 Westmount Square have sold this year for $800,000 and $900,000. Last month's price is the highest for any apartments there since 2010-12, when a number of high-priced apartments sold.
In adjacent-Westmount areas, nine houses and a duplex sold for prices from $788,000 to $2,575,000, with only two less than $1 million., It appears these districts — including the "Golden Square Mile" in downtown Montreal — have joined Westmount's "million dollar" bandwagon. In the first three months of the year 12 sales were posted at less than $1 million compared to only 7 above that level; now those figures have turned around with a vengeance!
As of this writing (in mid-May), some 164 single-family houses were listed for sale, 61 for over $2 million including five for more than $5 million. Only 15 are listed at under $1 million. Another 22 houses are listed for rent, anywhere from $2,300 to $25,000 per month.

Posted by andy

April 2015