Andy Dodge & Associates
Latest News
Monthly archives
---
Search
---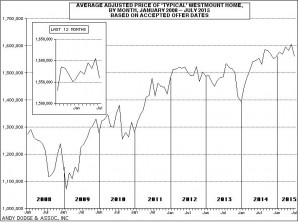 Download the Graph
Last month saw the sale of three houses with prices in the $700,000 range, an indication that speculators and renovators are grabbing whatever is left in Westmount at those prices; in fact,there are only four houses now on the market asking less than $800,000, Apparently the buyers are concluding that the Westmount market is still strong and will stay that way, thanks largely to the new McGill University Health Centre and the pitifully low interest rates. Those three house sales joined one other in the under-$1 million category, and on the other end there were no sales reported above $2 million, with the highest price $1,950,000.
Eight sales were reported in July, but with some agents taking time off,  it can be expected that there will be several July sales posted in the coming weeks. It shows that the summer months are still reasonably busy, and in fact agents we have talked to say they are having trouble finding a way to slow down!
Of the eight sales, only two were for less than municipal evaluation, the lowest a 10-percent markdown on a house which had been on the market for more than a year. In fact, the highest markup involved a house which sold for $750,000, still 36 percent above its tax value. The average markup was seven percent, just about equal to the average for the entire year so far, though the average price of the eight sales was kept down by the three between $735,000 and $765,000.
Only one condominium sale was reported in July, again six percent more than evaluation so the averages are about the same in that category. Average markups for the first two quarters of the year were 8 percent and 9 percent, respectively, so there is not too much variation over the year. Two co-op apartments at Westmount Square also were sold in July. So far this year five apartments at No. 2 Westmount Square and another two at No. 3 Westmount Square have been reported, makling up almost half of the 13 co-op sales in Westmount.
If the real estate wheels were churning slowly in Westmount, they certainly picked up in adjacent-Westmount areas, particularly to the north of the city limits where four sales were reported for prices ranging from $656,206 to $1,260,000. Four other sales were sprinkled through eastern Notre Dame de Grâce, Trafalgar-Daulac and the "Golden Square Mile," and condos sold in two buildings on Westmount's eastern border. Prices are generally up from 5 to 10 percent in most of these areas, though for some reason they are down slightly in eastern N.D.G. Through July, a total of 51 adjacent-Westmount houses and duplexes have sold, compared to 91 sales inside the city limits.
By mid-August the number of house listings in Westmount had dropped frrom 158 in mid-July to 154, of which only 14 are asking less than $1 million while another 14 are priced over $4 million.

Posted by andy

July 2015