Andy Dodge & Associates
Latest News
Monthly archives
---
Search
---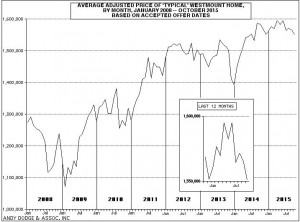 Download the Graph
Westmount real estate faced a Very Good Month in October, with 15 sales logged by local agents and three of those at more than $2 million, but the average markup over city valuation actually dropped from almost 10 percent in September to 3.5 percent last month.
Only four properties actually sold below valuation but then, only three others sold for more than a 10-percent markup, and in fact all three were in a virtual tie at 13 percent above tax value. Volume was above average in October but does not appear to have been affected by the federal election, with 12 of the 15 sales taking place before the election results were announced on October 19. Highest price was $3,850,000 for a mid-level mansion, and two others had prices of $2,500,000 and $2,100,000, while in September the highest price (recorded after last month's blog) was $2,050,000. Five sales were negotiated for less than $1 million and in fact the price range of those five was between $705,000 and $835,000, and only one more was less than $1,175,000, so the spread between the lower-priced Westmount houses and the mid-range properties may be widening. In fact, none of the house prices negotiated in October were between $1,380,000 and $2,100,000, so the spread between mid-range and high-priced houses may be widening as well.
Average time on the market leapt from 111 days in September to 184 days last month; only two sales took less than a month to sell and two had been shown for more than a year
Three condominium sales were logged in October, one in a former duplex for $430,000 and two apartments for $625,000 and $1,200,000. Two of the three went for less than valuation and the average markup was 0.3 percent, after the previous quarter (July through September) showed an average markup of 9 percent. So far this year the average markup for condos is 7.4 percent, almost exactly what it was in 2014, an indication prices have not moved at all in this category.
Five houses and a duplex-type condo sold in adjacent-Westmount areas, generally for slightly lower than average markups but with house prices ranging from $820,000 to $1,222,500. The number of home sales in adjacent-Westmount is slated to have its best year in terms of volume since we were pulling out of the economic recession in 2009.
As of November 12, the number of houses listed for sale has dropped to 151 from 164 a month ago, but almost all of the reduction is in the $1 million to $2 million price range. There are still 65 houses asking more than $2 million and half of those — 32 — are asking more than $3 million. One more house was rented in October, bringing the total this year to 25.

Posted by andy

October 2015