Andy Dodge & Associates
Latest News
Monthly archives
---
Search
---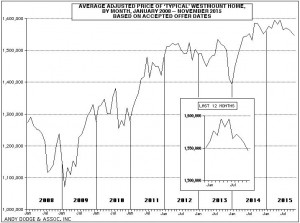 Download the Graph
The Westmount real estate market pulled back in November, as both prices and volume moved downwards and the overall average moved below $1,550,0000 for the first time  since June, 2014.
Only five single-family dwelling sales were posted in November, in a range from $460,000 (the lowest price for a house in Westmount since November, 2011) to $1,500,000 (the lowest monthly maximum since August, 2014).  The total commitment for the month came to $5,251,000, just under the municipal evaluation for the five of $5,272,200; this is the first time since December last year that the average is a markdown.
Still, the value of the average Westmount home is higher than it ever was before August last year, so in the larger perspective owners should continue to be happy. The Montreal Real Estate Board was very positive last month about increases in both volume and prices of real estate on the Island of Montreal, but of course they are talking about the median price of resales as $300,000, so this is a far cry from the levels in Westmount.
Two condo sales — one flat in a triplex and one apartment — both sold under valuation, and combined with three sales in October the average for the fourth quarter has been a net markdown. Adjacent-Westmount was busy, but again, for low prices: three condos/coops in eastern NDG, a duplex and the lower half of another one in southern Côte des Neiges, and two houses to the east of Westmount, but both going below $1,000,000. The November prices generally made averages dip in most areas, though as with Westmount they are still ahead of last year's figures.
So now we enter the holiday season and several houses have been pulled off the market: the number of listings is down by about 10 percent in the past month and even the number asking over $4 million has dropped from 18 to 15. Eventually — say, mid- to late-February, the start of the next spring season — many of those unsold houses will come back on the market, and averages will either surge or pull back, depending on the state of the economy.
Let me take this opportunity to wish all of you — agents, colleagues, clients and readers — a wonderful holiday and Joy throughout 2016.

Posted by andy

November 2015