Andy Dodge & Associates
Latest News
Monthly archives
---
Search
---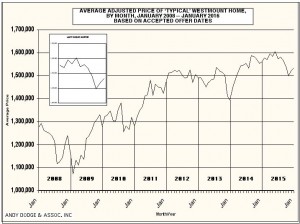 Download the Graph
While we were preaching gloom and doom to the Westmount real estate market last month, some agents were relaxing on the beach in Florida and sending in their December sales information only after we had reported on the down market. The December list now includes three sales over $2 million and an average markup of four percent, compared to a previous calculation of a one-percent markdown.The total number of sales jumped from 7 to 13, the best December we have had since we were pulling out of the recession in 2009.
For January, then, the market is continuing to recover, though the price range for six one- and two-family dwellings is quite low, between $530,000 and $1,800,000. And in fact the only two which sold for less than $1 million are also the only two which sold below valuation; in fact, three homes sold for more than a 25 percent markup, bringing the overall average for the month to 14 percent above valuation. This is an indication that there are, indeed, buyers out there ready to pay Westmount prices, which bodes well for the spring market. We're not back to where we were last spring, but at least we appear to have started the recovery process.
With the addition of sales to the December list, it turns out that last year had the highest volume since 2012, the highest percent of sales (76%) over $1 million and an improvement on the adjusted average price of almost $100,000, even though in the last three months much of that had been wiped away; the higher markups in January offer some encouragement, but there is still a distance to travel.
No new condo sales were added to the December list, which also had shown an average markdown for the first time since early 2014. Now, in January, two condos were snatched up almost as soon as they came on the market, both listed for less than a week, and one for 37 percent more than its municipal evaluation (the other was 2 percent below). So without enough data for a statistic, it looks like 2016 may be off for a fast start in the condo market.
In adjacent-Westmount, five sales were posted for December and two more for January, with prices ranging from $620,000 to $3,250,000, the latter for a mansion on Trafalgar Ave. One other co-op flat on Marlowe Ave. was reported in January.

Posted by andy

January 2016