Andy Dodge & Associates
Latest News
Monthly archives
---
Search
---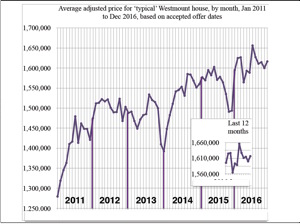 Download the graph
Seven home sales with an average mark-up of 5.5 percent rounded out the Westmount tally for 2016, which saw a total 193 sales compared to only 157 in 2015, more than three-quarters of them over $1 million and prices as high as $8 million and more.
The December list showed prices ranging from $955,000 to $2,450,000, one house selling 33 percent above municipal valuation while another sold more than 20 percent below municipal tax value. More sales were added to the list as having been completed in November, bringing the total for that month to 23, the busiest November since 2001.
In fact, market interest appears to have shifted to adjacent-Westmount areas, which tallied eight sales in December following nine in November, mainly in the NDG-Côte des Neiges borough and with most prices between $800,000 and $1,300,000, but with one very small house on Circle Rd. at $485,000 and another on Cedar Crescent at $2,430,000. Meanwhile, the number of available houses in Westmount has dropped to 67 from 113 as recently as last October, an indication buyers, having bought up most of the Westmount market, will soak up what they can in adjacent-Westmount areas before shifting to a higher price range in Westmount-proper. Needless to say, there is a great deal of interest to buy downtown property, which should bode well for the upcoming spring season.
Volume also increased in Westmount's condominium sales market and mark-ups increased from an average 5.6 percent in the third quarter of 2016 to 6.2 percent in the fourth quarter, but the average for the entire year is only 3.3 percent in 40 sales, down from 6.3 percent in 27 sales in 2015. Of the 13 condo sales in the fourth quarter last year, only one was negotiated in December compared to eight in November and four in October.
Mark-ups and mark-downs, it should be noted, are based on municipal evaluations for the old valuation roll published in 2014. The newest roll — on which this year's taxes will be based — came into effect as of Jan. 1 and will be used for future comparisons. While the seven December sales showed an average mark-up of 5.5 percent for the old roll, for example, the average compared to the 2017 roll is virtual parity.

Posted by andy

December 2016