Andy Dodge & Associates
Latest News
Monthly archives
---
Search
---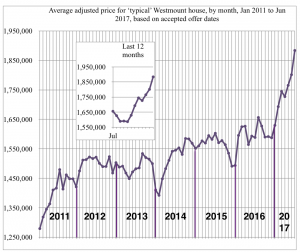 Download the Graph
Efforts by Toronto and Vancouver authorities to try to cool the bourgeoning real estate markets there, might just be pushing the Westmount market to new heights, as foreign buyers and prospectors in luxury properties realize that this city is still a bargain compared to other large cities in Canada and around the world.
The "typical" Westmount house value surged through the $1.8 million level and volume stayed above average, with 15 sales agreements reported in June compared to 12 in each of the previous two years, and prices moved higher and higher. Three sales were over $2 million and another two were in the $1.8 million range, with only two of the 15 below $1 million. The average markup over valuation was 14.5 percent, but once the extreme sales are removed, the average leaps to 22.8 percent, sending the price of the "typical" Westmount house into the clouds.
More than this, the average time on the market has dropped from 132 days in April to 52 days in June, and seven of the 15 reported sales were 20 days or less. "Bidding wars" probably helped in pushing three of the sale prices to or above asking price; the same happened with seven of 21 sales agreements in May. So far this year we have tallied 104 one- and two-family sales, up from 100 in the first six months last year, this despite the fact that prices are up 14 percent year-over-year.
The addition of five condo sales in June brings to 19 the number in the second quarter of 2017, the highest quarterly volume since the second quarter of 1999. At that time the average price of 23 condo sales was $279,091; this year it is $741,158, with an average markup compared to the 2017 valuation of 10 percent. Three of those sales were at 215 Redfern Ave., two for prices over $1 million. All but two of the 19 second-quarter sales were above municipal tax value and almost all are in apartment buildings; only two converted duplex flats sold in the quarter.
Adjacent-Westmount has been busy, too, with five sales in June bringing to 48 the number of sales this year, fairly evenly distributed between the north, east and west sectors of adjacent-Westmount. Prices are mostly under the $1 million level in eastern Notre Dame de Grâce and southern Côte des Neiges, but they are slowly moving toward that level. Nothing in the "Golden Square Mile" has sold this year for less than $1 million, while houses in the Trafalgar-Daulac area span the biggest range, between $580,000 and $3,300,000.
By mid-July, the number of available listings in Westmount had plummeted to 58 houses from 138 a year ago, only four of which are asking less than $1 million (and only one of which is less than $900,000). Of the other 54, 11 are asking $4 million or more, another 10 between $3 million and $4 million, and 14 more between $2 million and $3 million. Another 21 houses are being offered for rent, of which four are asking $10,000 per month or more. Already this year 21 Westmount houses have been rented, only two above the $10,000 mark.

Posted by andy

June 2017