Andy Dodge & Associates
Latest News
Monthly archives
---
Search
---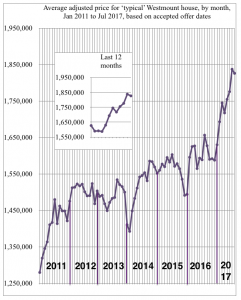 Download the Graph
Westmount's real estate market took a time out in July, with only six single-family dwellings and two duplexes sold in the month (pending late reports from agents who might still be on vacation), only four prices over $1 million and a top price of $3,050,000. This after a first half-year which showed the highest sales volume since 2007, and several late postings for June including one sale at more than $8 million.
In fact, every month since February ha seen between 19 and 21 reported sales, and the number of available listings has now tailed off to less than half what it was at this time last year. Because there is so little new inventory, buyers are left to pick up the dregs, including three houses which had been on the market for more than a year. The average time on the market, then, jumped to 206 days from 98 days in June.
Still, the 'typical' Westmount house maintained its value of more than $1,800,000 for the second month in a row, up from $1,693,000 in January. The average mark-up over city valuation in July was 9 percent and for the year it is 9.5 percent. Highest mark-up in the month was 23 percent and only two sold at less than valuation, one for 15 percent less.
After a busy second-quarter sales list in which 20 condominium sales were posted, there were none in July. In the last quarter, three of the 20 sales were for more than $1 million and ranged down to $350,000, with an average $722,000 p[rice and an average mark-up over valuation of 9.6 percent, almost the same as for one- and two-family dwellings.
Because the market is so tight, it might not be surprising to see listing agents who find their own buyers for the houses they are selling, but when we find that five of the eight sales are "double-ended," it becomes a phenomenon. In the first six months, 30 percent of the sales were "double-ended," according to listing information; we want to see if this surge is going to become the norm, so stay tuned.
For adjacent-Westmount, only two home sales were posted in July, one on de Breslay Rd. and one on Cedar Ave. This year prices are up strongly in the Trafalgar-Daulac and "Golden Square Mile" districts, not so much in the other adjacent-Westmount areas.
As of mid-August, only 56 Westmount houses were actively listed, only three for less than $1 million and an even dozen for more than $4 million. Some 28 houses have been rented so far this year — three for more than $10,000 a month — compared to only 21 by the same time last year.
-30-

Posted by andy

July 2017