Andy Dodge & Associates
Latest News
Monthly archives
---
Search
---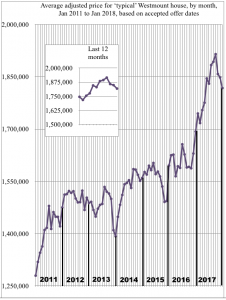 Download the Graph
The low volume we reported in December was even lower in January, largely because of the lack of inventory now on the Westmount real estate market, though some agents suggest that we might have reached a saturation level, thus that prices are not going any higher in the coming sales season and may even come down a bit.
Only two single-family sales were posted as having been transacted in January, and one more sale in late December brings the total for that month to five. The average for the two-month period is $1,877,286, and the total sale price is about 15 percent over valuation, down from the 20- to 22-percent average mark-ups recorded in each of the previous three months. None sold in either month for less than valuation, but mark-ups ranged from 0.65 percent to 58.62 percent. Three of the seven sales involved prices over $2 million, with only one — in December — under the $1 million mark.
In fact, more condos sold in January than single-family dwellings, with three apartments going for prices between $400,000 and $840,000, and an average mark-up just under 11 percent. The final tally for last year was 56 Westmount condominium sales, which is the most since we started keeping records in 1999. Four more co-op apartments —including one flat in a triplex — also sold in January, for prices between $392,000 and $550,000, two of these actually selling above their asking prices.
Adjacent-Westmount had more sales than Westmount proper, as well, with two sales in the Circle Road area, two on Northcliffe Ave. in eastern Notre Dame de Grâce, and one each in the Trafalgar-Daulac area and "Golden Square Mile" downtown. Four of the six sales went for more than $1 million, but none above $2 million. Last year those areas (including Shaughnessy Village) reported 83 sales, down from 93 in 2016; similarly, Westmount proper logged 182 sales in 2017, compared to 198 in 2016; those two years were the highest sales volumes in the previous decade.
New listings are beginning to pick up for the coming season, but only 60 houses are on the market in Westmount as of mid-January, up 15 in the space of a month; there are only three asking less than $1 million, compared to 17 asking more than $4 million.

Posted by andy

January 2018